The Walleye is one of the most sought after fish in North America.  With their wickedly sharp teeth and the fight they give on the line, one can easily see why. Not only are they a thrill to catch, but very delicious to eat.
Walleye have two very large eyes, from which the fish derives its name.  Their eyes have adapted to low-light feeding.  In addition to phenomenal sight, they also have tightly tuned hearing both from ears in its head and it's remarkable lateral line.  A Walleye can hear a single minnow up to 20 feet away and tell if it's acting normal or if it's sick.  Its sense of smell also helps him find and capture food.
Walleye spawn in early Spring right after ice out.  The Walleye lays more eggs per pound of body weight than any other fish.  They lay their eggs on gravel shoals or rock beds.  The river current that we have on our lakes also provides perfect spawning grounds for Walleye.  After spawning, Walleye have a short rest period.  After three to tens days they will start feeding with a vengeance.
Eating Habits
The majority of Walleye schools follow a predictable pattern throughout the season. In Spring, Walleye are found in large numbers massed below rapids and pools very close to their spawning grounds. As the season progresses, they move from these river systems and are found on rock points and shallow humps throughout the lake.
By mid summer, Walleye travel to deeper structure such as sunken reefs, rocky humps, and drop offs between 10-30' of water.
In Fall, many of the larger Walleyes will remain on these humps as well as making movements back to the rapids and holes where they spawned at in Spring. Not only will you find the Walleyes where there is incoming water, but also on the top of all outflow areas.
Fishing Techniques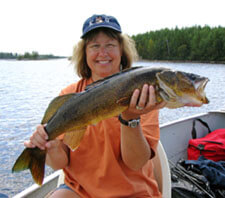 Jigging for walleye remains the most popular method of catching this game fish.  Jigs are tipped with live or dead minnows, leeches, crawlers or various plastic baits.  The thrill of a walleye strike really gets your heart pumping.  Sometimes the hit is quite hard but most of the time it is very light.  Once you get used to how a walleye hits, you will find it very easy to catch and release many in a day.  A portable depth finder is a tool that vastly increases your odds of not only catching numbers of walleyes but also larger walleyes.
Generally, when you catch one walleye, it is just a tip of the iceberg, that is to say there are generally many more either under your boat or close by.  A marker buoy is an invaluable tool in holding on a school of walleyes.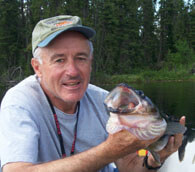 Another method for catching walleye on our lakes in the Wabakimi Provincial Park is to troll Rapalas, Shad Raps and Rat L Traps until you find your first fish.  Then you can stop and concentrate on the area with a jig tipped with your favorite bait.
Blue Walleye
For many years we have caught Blue Walleyes at our fly-in outposts lakes. We filmed a television show where we caught and released many Walleye with the beautiful gun barrel blue color throughout their body.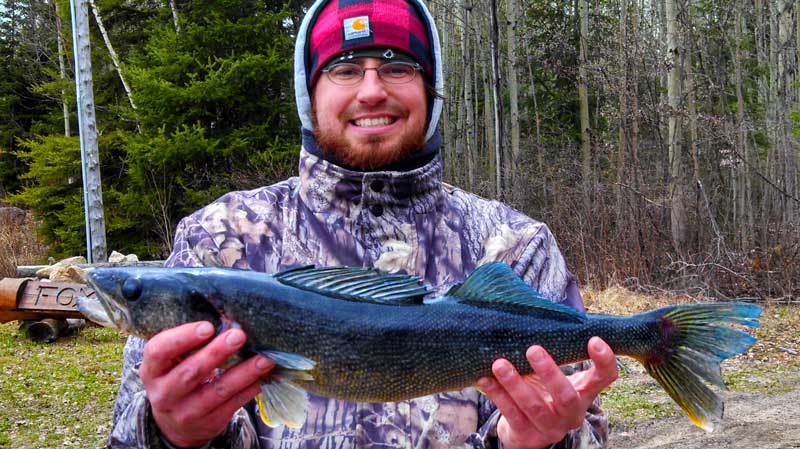 At first you have to look close, but when you put the Blue Walleye alongside the Golden Yellow Walleye, it becomes quite apparent there is a difference. We have had blue walleyes released in the 7-8 pound. category,  however, most of them have been in the 1 to 1 1/2 pound category. Click here to read an article about these Blue Walleyes.
Trophy Fish
Since Pipestone Fly-In Outposts started, we have released all walleyes over 18″.  Many of our guests who have caught large trophy walleye simply measure the length and girth of the fish and have a graphite replica made.  This allows many years of enjoyment without harming the fish that took 10-18 years to grow to trophy status.
Our species guide not only describes the beautiful fish that you'll pull from Canada's finest waters, but also specifically where you can expect these fish to be in Wabakimi Provincial Park and our boat-in lakes. Click the fish for more information.