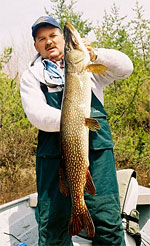 The second most sought after fish at our outpost camps is the Northern Pike. They are an exciting, bold and ferocious underwater predator making them a lot of fun to catch.  Pike are also delicious to eat, something that many folks often over look.
Northern pike is often considered the fresh water shark of the north.  When you have a northern pike on your line, you know it.  They can put up a battle often running out your line on more than one occasion.
Northern Pike have a very long body with a pattern of light, almost yellow spots on top of a dark green coat.  The head and back are typically darker green than the rest of the body.  The rounded head and nose are also quite long, comprising as much as 25-30% of the fish's total length.  The mouth is large and full of teeth and razor sharp.  The lower jaw usually protrudes beyond the nose.
The Northern Pike is a spring spawner.  The spawn occurs as soon as the ice is out.  They spawn in heavily vegetated, shallow bays.

Eating Habits
The Northern Pike's diet is mainly made up of fish such as walleye, whitefish, suckers or other northerns.  However, they have been known to eat small rodents, ducklings, mice and frogs.  These fish are fierce predators and will eat anything that will fit in their mouth.
Many of our guests have told us stories of bringing up a fish to the boat and having a large pike strike it while it was hooked.  In fact, some of our guests claim to have caught "two fish at once" this way.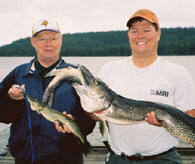 Fishing Techniques
In the springtime, Northerns are found in shallow, weedy bays that are being warmed by the sun.  Typically they spawn under the ice and then remain in the shallows to feed as the sun warms the waters.
In the summertime, the Northerns move out to the reefs and points.  They use weedy cover and rocks as ambush points.  The great thing about fishing northern pike is that they are aggressive and will often take two or three strikes at the same lure.  They also have an extremely fantastic ability to fight and make long runs out into open water.
In the fall, many Northerns will remain on mid lake humps with large schools of walleyes, while others will come back into the shallow current areas to feed on schools of minnows.
Northern Pike can be caught on almost any lure from top water to large deep diving crank baits.  Some of the most popular spoons that are used at Pipestone Fly-In Outposts are the large Doctor Spoon, Little Cleo, Mepps Syclops, Daredevils and Five of Diamonds.  They also can be caught on Zara Spooks, Sluggos and Spittin Image largemouth lures.  Some of our guests also like to target large pike by using spinner baits.  In our far north lakes, they often grow to a length of 46-51″.  This would be in the 25-30 pound category depending upon the girth of the fish.
Trophy Fish
Since Pipestone Fly-In Outposts started, we have released all northerns over 27″.  Many of our guests who have caught large trophy northern simply measure the length and girth of the fish and have a graphite replica made. This allows many years of enjoyment without harming the fish that took many years to grow to trophy status.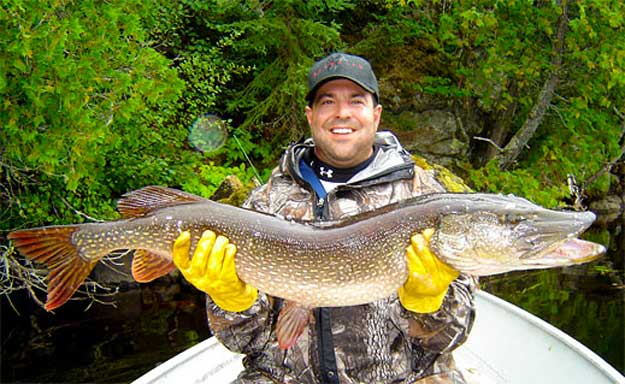 Our species guide not only describes the beautiful fish that you'll pull from Canada's finest waters, but also specifically where you can expect these fish to be in Wabakimi Provincial Park and our boat-in lakes. Click the fish for more information.