Here are a few of our favorite recipes that have been passed along from our guests.  Take a look – you are sure to find something that will get your mouth watering.
Here is an easy and delicious way to batter fish:
1.  Soak fillets in buttermilk for one hour.
2.  Coat with your favorite dry batter.
3.  Fry to golden brown.
4.  Enjoy
Walleye recipes are among the most popular.  This game fish is possibly the best eating freshwater fish in North America.
Beyond the tasty Walleye, the Northern Pike is a fish that is often forgotten about when it comes to great meals.  Often overlooked because of its reputation as a "bony" fish, once you learn how to fillet a northern and remove the Y bone, it is a very good eating fish.
If you have a favorite recipe of your own that you would like to share in our collection of recipes, please submit an email to
[email protected]
Try thawing frozen fish in milk.  The milk draws out the frozen taste and provides a fresh-caught flavor.
When freezing fresh fish in water, add a small amount of lemon juice to preserve the flavor.
All of our cabins have a stove top percolator type coffee maker.  To use a percolator coffee maker simply fill the coffee pot to desired level with water and put coffee grounds in the basket.  Bring the water to a boil, place the stem and basket in the water and cover securely with the lid.  Turn the burner to the very lowest setting and perk for 7 minutes.  Remove from heat and let sit for a couple of minutes for coffee to settle.  Enjoy.
Don't forget those tasty wild blueberries.  If you happen to be at the camps when they are ripe, add them to your pancakes for a special treat.  Set aside a tablespoon of your dry batter and gently mix with the blueberries.  Mix your batter as directed and then stir in the coated blueberries. This will help so you don't get that purple batter.
Baked Walleye
– 8 walleye fillets
– 2 chopped green onions
– 1/2 stick of butter
– 6 ounces crushed almonds
– bread crumbs
– salt
– pepper to tastePreheat the oven to 450F. Lightly salt the filets.  Add pepper to taste.  Roll the fillets in breadcrumbs.  Bake fillets for 15 minutes.  Melt butter and saute' the crushed almonds chopped onions.  Spoon the almonds and onions over the fillets and cook for 2-3 minutes.  Outstanding with wild rice on the side.  Serves 6
Oven Baked Fish
– Fish fillets
– 3 cups instant dry potato flakes
– 1 cup seasoned bread crumbs
– 1 T dill
– S&P to taste
– 1/2 stick melted real butterPreheat oven to 400F. Mix dry ingredients together. Dip fillets in melted butter and then in dry mixture. Place fillets on cookie sheet and bake for 15 minutes, turn fillets and bake another 5-10 minutes or until golden brown.
Grilled Walleye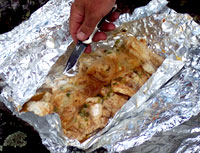 – 3-4 Fish Fillets
– onion, chopped in rings
– green peppers, chopped finely (optional)
– 4 T butter
– 1/2 tsp salt
– 1/2 tsp pepper
– 3 T lemon juicePlace 2 sheets of tin foil on top of each other. Place fillets on tin foil leaving a 2 inch border. On top of the fillets place onion rings, butter, salt, pepper and lemon juice. Place another sheet of tin foil on top. Seal top and bottom sheets together so no air can escape. Cook on barbecue grill for 20-25 minutes.
Walleye Supreme
– Fish Fillets
– 1 c seasoned flour
– 1 c cooked shrimp
– 1 cup heavy whipping cream
– 1/2 c shredded mozzarella cheese
– 1/4 c parmesan cheeseHeat oil in pan. Dip fillets and shrimp in seasoned flour. Brown the fillets and shrimp until done. Drain excess oil from pan. Add the cream and stir until reduced and thickens. Layer fish in oven proof baking dish. When the cream is reduced by half, pour it over the fish, top with the mozzarella and parmesan cheeses, then place it under the broiler until it turns slightly brown and the cheese is bubbly.
Easy Fried Potatoes
Peel and cut potatoes into slices or 1″-2″ chucks. Boil until almost done. On a double layer of aluminum foil add:

– butter chunks (somewhat generous)
– almost cooked potatoes
– onion, thinly sliced
– salt & pepper to taste
– other seasonings to taste
– cheddar cheese (optional)

Place a piece of foil on top and fold edges together so no juices escape during cooking. Place the foil in the oven, on a BBQ grill or on a grate over fire. Cook for 15-20 minutes. Slice open the foil being careful as the steam escapes. Enjoy.
STOP WISHIN' & COME FISHIN'!
Our species guide not only describes the beautiful fish that you'll pull from Canada's finest waters, but also specifically where you can expect these fish to be in Wabakimi Provincial Park and our boat-in lakes. Click the fish for more information.