I have caught Walleye all over the North, but this was the biggest I had ever seen outside of a TV show.
For those of you who don't want the fly-in experience – or perhaps are looking for a weekend getaway – we have a remote boat-in outpost cabin on Slender Lake.
Slender Lake is attached to the famous Pipestone Chain of Lakes and offers a great variety of fishing. Smallmouth Bass, Lake Trout, Northern, Walleye and Musky are found on this fantastic lake.  Only accessible by rail portage.
Trips offered from May until September
Slender
This Trapper's Cabin features three bedrooms, a solar fridge, hot and cold running water, and a shower.  Though the cabin is completely modern and spacious, it offers a touch of old country charm with the conveniences of home.  The Trapper's Cabin sits on one of the most beautiful points of Slender Lake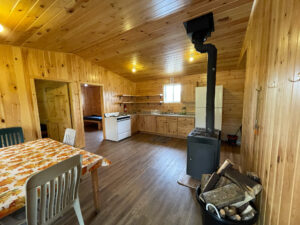 | Cabin Information | Lake/Outpost Stats |
| --- | --- |
| New 3 Bedroom Cabin In 2017 | Distance: 10 Miles From Airbase |
| Fully Equipped Kitchen | Fish: Walleye, Northern Pike, Musky, Smallmouth Bass, Lake Trout |
| 18ft Lund Alaskan Boats | Sleeps: 6 (minimum party of 2) |
| Indoor Shower & Toilet | Notes: Boat-In Only. Access to the Pipestone Chain of Lakes. |
| Sleep Apnea Machine Ready | Xtra: Boats equipped with depth finders, GPS and trolling motors |
| Solar Lighting | |
| Charging Stations | |
| Hot & Cold Running Water | |
…absolutely the biggest Walleye I had ever seen in person, let alone caught. We were the kids in the candy store.
Outdoor columnist Conrad Vollertsen and his wife, Pam Vollertsen recently celebrated 50 strong years of marriage with a trip to Slender Lake.   Conrad was kind enough to share his story with the world. Click Here to read his blog post. 
STOP WISHIN' & COME FISHIN'!
Our species guide not only describes the beautiful fish that you'll pull from Canada's finest waters, but also specifically where you can expect these fish to be in Wabakimi Provincial Park and our boat-in lakes. Click the fish for more information.